Style notes with Katherine Sabbath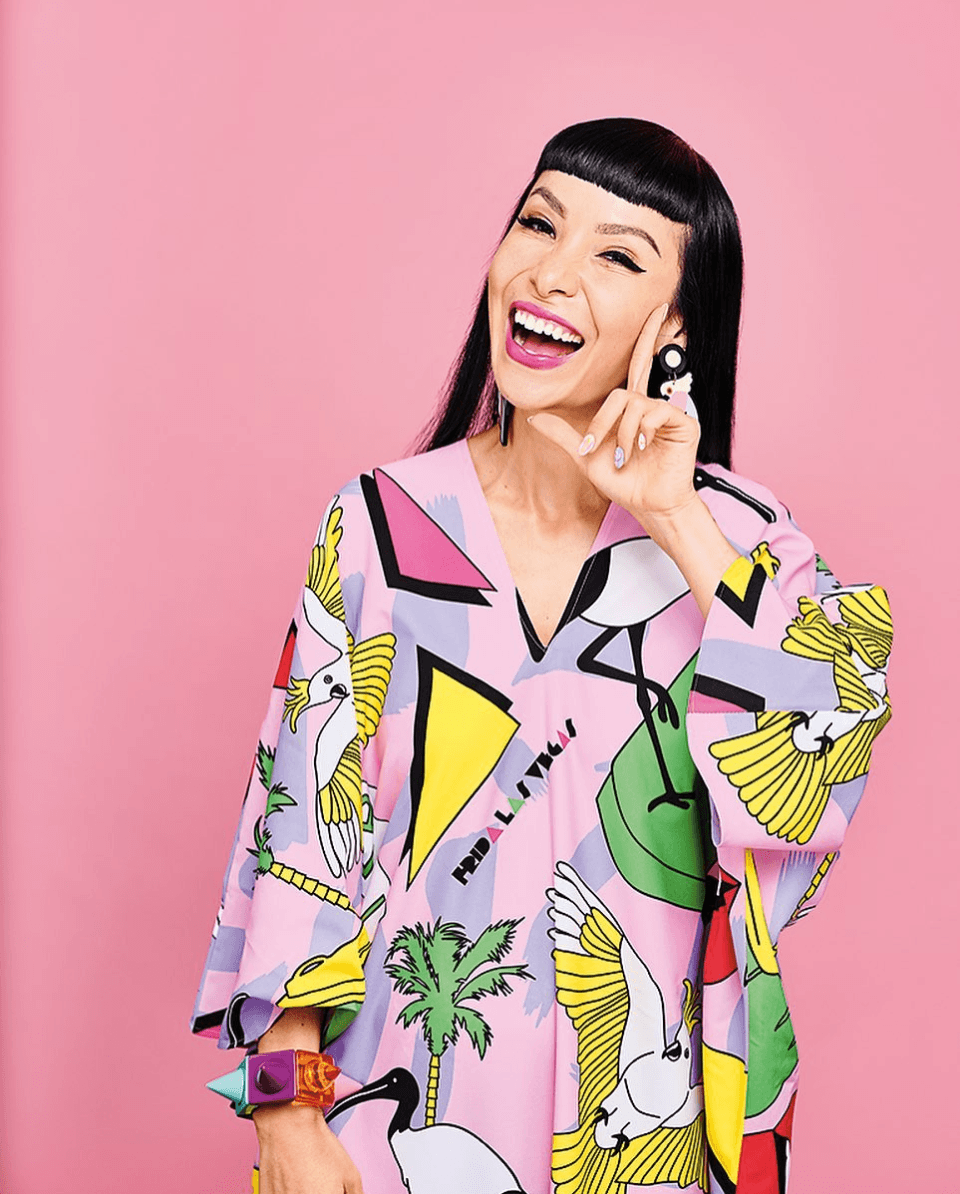 In using what I know about the fashion industry, trend development and my own theories around personal style, I hope to help others unearth and embrace the best versions of themselves.
In the process, my not-so-secret ulterior motive is that people will gain knowledge and confidence in exploring their own tastes, and as a result, they'll find it much easier to bypass impulsive (and short term) fast fashion purchases. 
Kat Sabbath is one person who I've admired for such a long time now, she is someone that brings so much visual joy to any landscape, whether its on instagram, via. her appearance on Masterchef, on bookshelves, or in her workshops. I feel like Kat genuinely make the most of every moment to express herself in the best way possible, and that, in turn inspires me to have more fun with my own wardrobe. 
Hey Kat! You obviously have a clear sense of your own tastes, and I think that can be a really tough thing for some people to nail. I would love to hear about your path to becoming the style icon that you are.
Have you always been adventurous in the way you're dressed? Are there any defining moments from childhood/teen years that stick in your memory around clothes/dressing/style?
I was a very introverted and quiet kid growing up, and had quite a bad stutter throughout the early years. I think this made me a very introspective person and I spent a lot of time in my own head. I loved being alone and spending time on creativity - whether it be drawing, making things, or pulling objects apart and seeing how they were made so I could fix them again. In my teens I LOVED music, video games, computers, and films, and I think this has definitely stimulated an imaginative mind. I would say my style sometimes helps me make friends too, because fashion is a way you can give someone an insight into your personality without having to say anything at all. The same goes with gifting people baked goods! It's a GREAT way to make friends. I think this is definitely my personal approach to most social situations and my 'style'.
I'm curious to know if you have a kind of formula that you work towards? From the outside it's pretty clear that you're drawn to bold colours, big prints and you often finish an outfit off with statement accessories that can range from super playful to quite tough. 
I think it's always evolving! I try to live my life thoughtfully, but also see the fun wherever possible - hence the interesting cakes and my desire to try any new ideas that excite me. I think a signature style should feel both exciting and comforting, because you are putting out there an uninhibited version of how you want to live in the world. You need to be able to sit in that creative space comfortably but also feel proud! When I'm dressing for myself, I like to describe it as playful yet purposeful, bold and expressive.
Actually as I write this i'm thinking that i don't know if I've ever seen you wear classic blue jeans (Brittney halloween is probably the closest!) Which also makes me wonder, are there clothes that you have no interest in wearing?
I love denim jackets and seeing denim on other people, but I don't really enjoy the feeling of denim around my waist - it's a weirdly sensitive and seriously ticklish area for me, so I usually wear dresses or pants with an elasticated waistband!
Onto the emotional stuff, I'm drawn to clothes for the sentimental connection as much as the actual practical elements of the garment, a coat I bought in a vintage shop in rural England, made from wool woven in a traditional Welsh pattern, there's printed dress that reminds me of a dress from a magazine image that I swooned over in my teens, a denim bag I've had for over 10 years that a friend bought me in Paris when I had no money to buy it myself haha. They are some of the pieces that still make me the happiest. Can you tell me a bit about how clothes make you feel? Do your emotions play a part in your wardrobe selection?
When I wear something that a friend or loved one has personally picked out for me, or when I've finally saved up enough money to buy that staple piece I'll probably grow old in, I feel a sense of warmth and pride! Clothing can absolutely trigger emotions and make you feel a certain way - they can be powerful accessories for reminding us of who we are!
I think one of the trickiest things for people can be breaking out of habits and getting a bit more adventurous with our choice of clothes, do you have any words of wisdom to help people tap into their inner Kat Sabbath, to get more confident in embracing their tastes, and past that fear of maybe looking a bit different or drawing attention to themselves?  
I always try to remember that being unique is your biggest strength and most interesting quality! Sometimes it can be uncomfortable to stand out, but if you're doing it for the right reasons, it can be so very enriching for the soul!
I remember when you bought something, I can't be entirely certain but i think it was a Moschino biker jacket leather handbag? And I remember you sharing online that you had sold a number of pieces from your wardrobe to be able to buy that bag. And I really appreciated your honesty with that, both from a realistic perspective of managing finances, but also I felt it was a great reminder that 1. If we have pieces we don't use we don't need to hang onto them, it's a great idea to sell them on, and 2. Being such a planned purchase shows a respect for the pieces that you're buying, that everything is valued and has a place, and more than that, you're not buying on impulse - it's much closer to curating a collection. Is this selling of pieces and I guess rotating your wardrobe a constant practice with you? 
Oh yes you're absolutely right there! I love investment pieces because you know you'll want to wear them forever and because they'll LAST, but also because they can be loved equally as much by someone else if you happen to need to sell them on. When I bought that Moschino biker jacket handbag, I had sold off some of my leather jackets and shoes in order to be able to justify being able to afford it! And I've loved it for the last 6 years. Plus it's not a great feeling for the soul to be swamped by too many material possessions in the house, so when it feels crowded I'll either donate or resell. Curation is a much more satisfying feeling than consumption.
What piece/s are in the highest rotation in your wardrobe?
I love my black velour track pants and matching zip-up jacket. This outfit has the right amount of pockets (at least 4) and I usually wear it 5 days per week while I'm working! I love anything that is high quality in materials and designed to be worn time and time again. I especially love my denim and leather jackets, some of which I've had for about 10 years.
What piece do you love but you don't wear as much as you'd like to?
My high heels! Shoes last me forever and I love looking at them as well as after them, but my heart aches that I have nowhere fancy to wear them to, haha. So I just gaze at them lovingly from the comfort of my socks and slides.
What designers/shops do you have an affinity to?
I love Marimekko for their focus on timeless prints and cuts, as well as sustainability and ethical production. For a playful and exciting approach to fashion, I also adore Frida Las Vegas, Discount Universe, Prada, and Moschino!
Do you have a style icon?  / Who or what inspires the way you dress?
For their unique approach to dressing in whichever way they feel at the time, I admire Iris Apfel, Lee Lin Chin (Australian Newsreader), Lady Gaga, and
Finally, and most importantly, how do you manage to say so immaculate when you're cooking in the kitchen?!
Haha, thank you! I usually have my hair tied back so I can focus without it creeping over my shoulder, and I like keeping the baking + cake decorating process as stress-free as possible by taking my time and cleaning as I go!
If you want to find out more about Kat, you can follow her on Instagram @katherine_sabbath and you can buy her books via her website here
And, if you're feeling motivated to express your own incredible personal style, but would like a little guidance, this course might be exactly what you're after. 
---